Playing at
90 minutes, USA, In English, Documentary
Rated NR: _
To purchase tickets, click on your preferred showtime below
Tuesday, May 23rd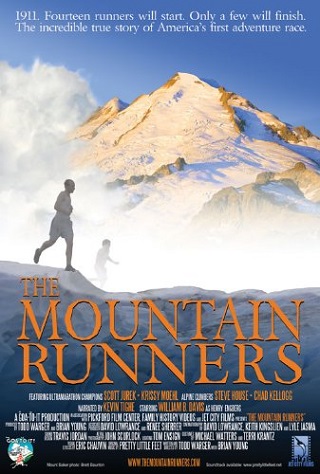 FIVE YEAR ANNIVERSARY SCREENING!
Featuring an in-theatre Q+A with local filmmakers Brian Young and Todd Warger. A signed poster and film memorabilia will be available for a few lucky ticket holders!
The Mountain Runners is the story of America's first mountain endurance/adventure foot race, which took place in Bellingham, Washington. First run in 1911, the grueling 28 to 32 mile race to the glacial summit of Mount Baker and back utilized steam trains and modified model T autos and lasted only three years due to its intrepid dangers. Told in a docudrama style, the film incorporates never before released historic images, archival film, visual effects, and recreated dramatizations staring William B. Davis (X-Files, Smoking man.) The film is narrated by Kevin Tighe (Lost, Emergency, What's Eating Gilbert Grape) and is well supported by a cast of Cascadian historians, descendants of race participants and a group of world-renowned experts in their field.