Playing at
119 minutes, USA, In English, Western
Rated NR: _
To purchase tickets, click on your preferred showtime below
Thursday, September 28th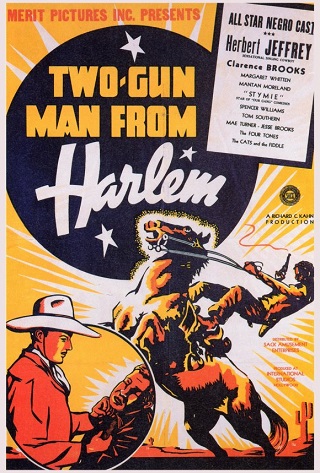 Professor Michael Johnson – author of "Hoo-Doo Cowboys and Bronze Buckaroos", who brings conceptions of the African American West starting with Oscar Micheaux's 1920 silent The Symbol of the Unconquered + Herb Jeffries in Two-Gun Man from Harlem.
The Symbol of the Unconquered: Directed by Oscar Micheaux and designed especially for black audiences, this silent romance flirts with the notion of miscegenation — the hatred of inter-racial relations. The trouble begins when a dark-skinned black finds himself avoiding the affections of a light-skinned woman because he thinks she is white. It takes quite a bit of convincing for her to prove him wrong.
Two-Gun Man from Harlem:Bob Blake is a ranch foreman falsely accused of killing his boss, John Steele (Tom Southern) after spurning the man's flirtatious wife, Ruth (Mae Turner. Returning from a stay in New York's Harlem, Bob returns West in the guise of the Deacon, a former preacher turned killer and Bob's look-alike.