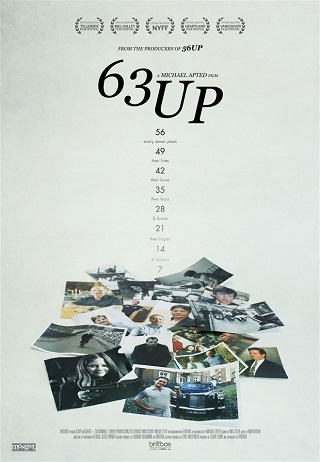 Playing at Pickford Film Center
180 minutes, UK, In English, Documentary
Rated NR: .

"The ninth installment of the film world's most remarkable franchise, 63 Up finds longtime director Michael Apted catching up with (most of) the same 14 British people the series has been visiting every seven years since it began in 1964. Seven Up! was never intended to be anything more than a one-off — a black-and-white X-ray of the British class system designed to explore the idea that that its child subjects were already entombed in their fates — but Apted's persistence has allowed the project to accomplish that goal while also growing into something far more profound." — David Erlich, IndieWire.
Purchase Tickets by clicking on a showtime
Friday, March 13th (Showtimes TBD)
Saturday, March 14th (Showtimes TBD)
Sunday, March 15th (Showtimes TBD)
Monday, March 16th (Showtimes TBD)
Tuesday, March 17th (Showtimes TBD)
Wednesday, March 18th (Showtimes TBD)
Thursday, March 19th (Showtimes TBD)