An Average Day at Pickford Film Center During Quarantine
PFC Education Outreach Manager Mikayla Nicholson recounts her typical work day while the theatre is shut down to conventional crowds
The doors might be closed, but Pickford Film Center is still very much in the business of bringing you new films. As our community and the whole world adjusts to a new way of working and connecting, we take you behind the scenes of your local independent movie theater to see what the average day is like for a Pickford employee during quarantine…
8:00 a.m. – Wake up. Cuddle with cat. Pull myself away from the cat and step into my home office AKA a desk four feet away from my bed. Make coffee. My cat likes to sit in the office chair, so I let her have it and grab a chair from the kitchen.
9:00 a.m. –  Get a call from Susie, our executive director, with various updates and directives. Before COVID-19, we were scheduling field trips for more than 700 kids to watch the Bellingham Children's Film Festival shorts packages at the Pickford. I make sure all PFC field trips and rentals have been properly canceled, working out logistics and refunds, taking events off our shared calendars and putting them into a master rescheduling spreadsheet. A colleague put it succinctly when she recently wrote: "It becomes our job to undo the work we've done." Ouch. Try not to think about it. Put on a movie—Legally Blonde—distract myself. Answer emails. Research various film-related educational resources we could put on our website. Think about other movies that motivate me to work from home…
10:00 a.m. – Attend manager meeting via Zoom video conferencing. It's nice to see everyone. We discuss the Pickford's shift to exhibiting new movies online. Michael Falter, our programming director, is quickly booking a slate of new release films that people can stream in a virtual screening room, with up to 100 percent of the ticket proceeds going directly to the Pickford.
Lindsey, our marketing manager, is creating content for our newsletters, website, and social media platforms. Meghan, our volunteer coordinator, puts out a call for volunteers to provide their film recommendations. Ryan Uhlhorn and Michael Barone, our operations manager and assistant operations manager, respectively, are making sure everything is in order at the physical theater. Concessions will expire soon, so we're figuring out the best way to distribute food between the staff and the food bank.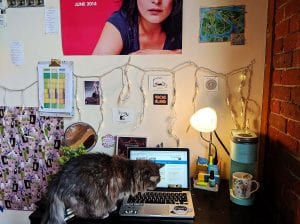 Ariel, our development and membership manager, is reaching out to our member base to make sure we're still connected, and working with Susie to figure out solutions to keep all PFC staff paid for as long as we can. All staff members are brainstorming film lists, reviews, videos, testimonials, and more. Everyone is working so fast to help the Pickford adapt to this new world we're living in. I make another cup of coffee.
11:30 a.m. – Update the Pickford's Letterboxd account with new and upcoming releases. Since shifting to a virtual cinema model, we've opened up seven new films this week; we usually open two or three. I add some glowing reviews by Michael Falter for Zombi Child, The Whistlers, and Bacurau and a lovely review for And Then We Danced from Susie. I add a few upcoming films to our Watchlist, including Sorry We Missed You, a new film from Ken Loach.
12:00 p.m. – Susie sends over a list of films for teens that are available on Kanopy, a free streaming service accessible with a Bellingham Public Library Card. I record a brief video introduction for Eighth Grade, one of the films on Susie's list. It's a fun project, but it takes me at least 20 takes to express myself in one shot without messing up. I don't know how Kayla Day did it. Write down a list of good background movies for working-from-home: The Devil Wears Prada, His Girl Friday, Moneyball.
12:30 p.m. – Break for lunch. Try my best to avoid Facebook and Twitter. Read some newsletters from other Art Houses to see what they're up to. Take out the trash and check the mail. I never thought I would appreciate these chores so much. The sun's out today, it's nice. I post the list of work-from-home background movies on my Instagram.
1:00 p.m. – Attend another Zoom meeting. This time it's with Art House Educators from all over the world to discuss what we are all doing to keep our audiences engaged. We share stories and resources with each other and vent our frustrations and fears. It's a productive meeting. I learn that some theaters are using Twitch to stream movies with their audience, which I think is a good idea.
2:00 p.m. – Set up a Twitch account.
2:30 p.m. – Try to host a test video on Twitch and fail spectacularly. Decide I will come back to this later.
3:00 p.m. – Zoom, Zoom, Zoom. Time for Zoom meeting number three. This time it's with our partners at ITVS & PBS Indie Lens Pop-Up. It's a webinar on how to broadcast Indie Lens films to your audience via livestream. It's a helpful session and something our audiences can look forward to.
4:00 p.m. – Carey Ross, a PFC projectionist, texts me to say that she saw my Instagram post about work-from-home movies and wants to use it in the next issue of Cascadia Weekly. I'm thrilled! I check-in with PFC staff about having a Netflix Party later in the evening, where we can all watch a movie together and chat simultaneously. Suggest something lighthearted. I miss my friends at PFC.
4:30 p.m. – Steve Meyers, PFC's longest-serving projectionist, sends over a list of his Apocalyptic Sci-Fi film picks, and I add them to our Letterboxd account and put a few on my own personal watchlist. I start thinking about a list of movies made before 1960 that I haven't seen…
5:00 p.m. – Susie sends over a few documentaries that might make good candidates for Doc-ED, our middle school documentary program. I give them a look and think, "Would a middle schooler relate to this?" Every day I stray further and further from the answer.
6:00 p.m. – Make dinner.
6:30 p.m. – Watch Dolemite is My Name with my Pickford colleagues together via Netflix Party, laugh at their funny remarks in the chat, wish I were half as clever. Miss them terribly. Happy I can hang out with them in this way.
9:00 p.m. – Chat with long-distance friends over Zoom (The fourth, final, and best Zoom of the day). Pop in another movie: When Harry Met Sally. Have some hope for tomorrow. Go to sleep somewhere between 11:00 p.m. and 3:00 a.m. Wake up, repeat.
You can support Pickford Film Center and keep movies alive in our community by making a donation online, purchasing a ticket to these new releases, joining as a Pickford member or buying a gift card for future use. See you at the movies!
View the new films at: https://www.pickfordfilmcenter.org/now-playing/
Follow us on Letterboxd: https://letterboxd.com/pickfordfilm/
Join our email list: https://www.pickfordfilmcenter.org/about/stay-connected/