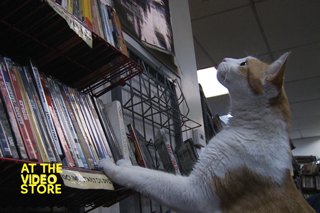 Playing at Pickford Film Center
72 minutes, USA, In English, Documentary
Rated NR: .

An underground community of lovable weirdos has preserved the endangered species of mom n' pop video rental stores across the United States. Alan's Alley in New York, Movie Madness in Portland, Scarecrow Video in Seattle, Le Video in San Francisco, Odd Obsession Movies in Chicago; each has stayed valiantly afloat amid the rising tide of automated rentals and streaming services. AT THE VIDEO STORE is a loving ode to the dying art of connection and curation these independent rental outlets served a generation of Americans. Director James Westby weaves together the macro-narrative of the industry's changing business model with the intimate memories of store owners and cinema icons like John Waters, Nicole Holofcener, Gus Van Sant, and Bill Hader. A vibrant original soundtrack crystalizes the community's underground spirit. While nostalgic for what was lost, the film is hopeful about what neighborhood video stores can still offer a world starved for novelty and authentic human interaction.
Purchase Tickets by clicking on a showtime
Thursday, January 16th