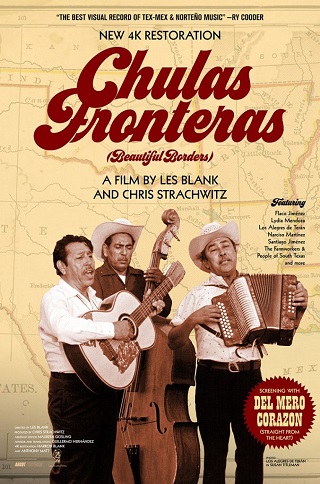 Playing at Pickford Film Center
86 minutes, USA, In English and Spanish w/ English subtitles, Documentary
Rated NR: .

Chulas Fronteras (Beautiful Borders) (dir. Les Blank, 1976) is a zesty introduction to Norteña music and culture that exists along the Texas-Mexican border. The music is a fusion of traditional Mexican harmonies, German dancehall rhythms and a little something extra. From soulful, lively dance tunes to political work songs, música Norteña has evolved since the turn of the 20th century into a unique Mexican-American hybrid. Blank links the music's spirit and vitality to the strong family bonds of Tejanos. The plight of migrant workers adds a sobering backbeat to this joyous film. 58 mins.
Also presenting Del Mero Corazón (Straight from the Heart) (dir. Les Blank and Maureen Gosling, 1979), a lyrical journey through the heart of Chicano culture as reflected in the love songs of the Tejano Conjunto and musica Norteña traditions. 28 mins.
View our complete Doctober lineup.
Purchase Tickets by clicking on a showtime
Sunday, September 29th
Thursday, October 10th