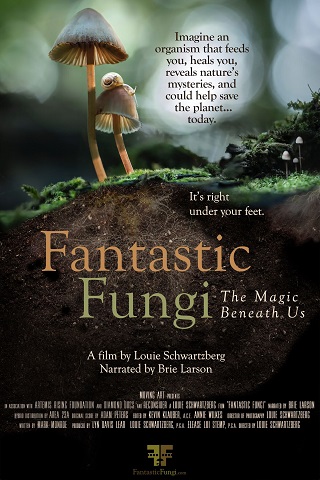 Playing at Pickford Film Center
300 minutes, USA, In English, Documentary
Rated NR: .

Join us for Cinema Thyme — a unique merging of fine culinary prix fixe menu from Ciao Thyme, designed especially for each film in the series. Guests will enjoy a reception before the film, perfectly timed treats throughout the screening and when the film is over: a formal dinner, complete with curated wine selections.
Includes a post-screening live broadcast conversation with Director Louie Schwartzberg, Mycologist Paul Stamets and others.
Fantastic Fungi takes us on a journey through time and scale into the magical earth beneath our feet, an underground network that can heal our planet. Through the eyes of renowned mycologists and authors like Paul Stamets, Michael Pollan, Eugenia Bone, and others, we become aware of the beauty, intelligence and solutions the fungi kingdom offer us in response to some of our most pressing medical, therapeutic, and environmental challenges.
Tickets $110 for members, $125 for non-members
Purchase Tickets by clicking on a showtime
Thursday, March 26th