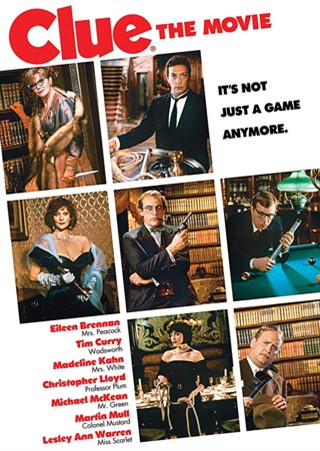 Playing at Limelight Cinema
97 minutes, USA, In English, Comedy
Rated PG: _

Third Eye Cinema is a monthly "cult" film series programmed by Pickford staff & volunteers, and generously sponsored by ModSock.
This month's selection chosen by Carey, Projectionist
Based on the popular board game, this comedy begins at a dinner party hosted by Mr. Boddy (Lee Ving), where he admits to blackmailing his visitors. These guests, who have been given aliases, are Mrs. Peacock (Eileen Brennan), Miss Scarlet (Lesley Ann Warren), Mr. Green (Michael McKean), professor Plum (Christopher Lloyd), Mrs. White (Madeline Kahn) and Col. Mustard (Martin Mull). When Boddy turns up murdered, all are suspects, and together they try to figure out who is the killer.
Purchase Tickets by clicking on a showtime
Saturday, March 7th