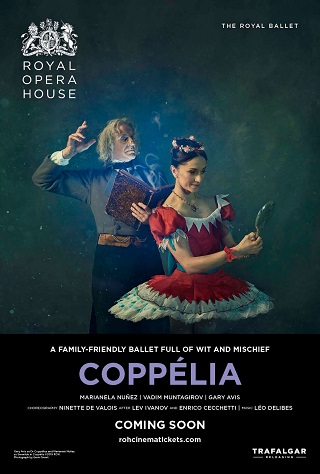 Playing at Pickford Film Center
155 minutes, UK, In English, Ballet
Rated NR: .

A classic returns to the Royal Ballet repertory with Ninette de Valois' charming and funny Coppélia– a story of love, mischief and mechanical dolls. The intricate choreography is set to Delibes' delightful score and shows off the technical precision and comedic timing of the whole Company. Osbert Lancaster's designs bring a colourful storybook world to life in this treat for the whole family.
Toy maker Dr Coppélius seems to have a beautiful young woman in his house: Coppélia, who sits and reads on his balcony. Franz and his fellow young villagers are curious about her and how she ignores them all. Franz's fiancée Swanilda is not pleased by Franz's interest in another woman, but equally curious. When Dr Coppélius goes to the local tavern, the young villagers slip into his house to introduce themselves to the strangely silent young woman.
Tickets are $16 for Pickford members, $20 general admission, $10 for students/military.
Purchase Tickets by clicking on a showtime
Sunday, January 26th