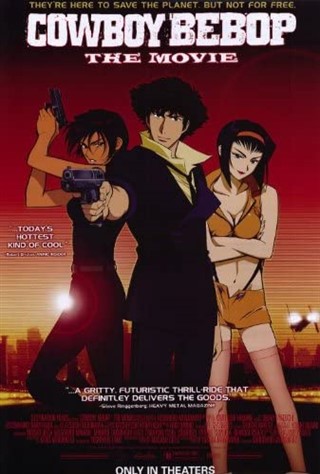 Playing at Pickford Film Center
115 minutes, Japan, In Japanese w/ English Subtitles, Action
Rated R: Some violent images

Directed by: Shin'ichiro Watanabe
In this acclaimed Japanese animation, Jet Black, Faye Valentine and the others aboard an interstellar craft called the Bebop have their eyes on a lucrative reward. However, if they expect to collect it, they will have to haul in the man responsible for unleashing poison on Mars. Although it seems that their biggest challenge involves catching up with the infamous Vincent Volaju, here in the 2070s the skies are even more troublesome than members of the Bebop team realize.
Third Eye Cinema is a staff and volunteer-curated film series of all of our favorite flicks — the cult classics, the ones you might have missed, the ones you need to revisit. This series is sponsored by our friends at Trove Cannabis!
Purchase Tickets by clicking on a showtime
Saturday, November 12th