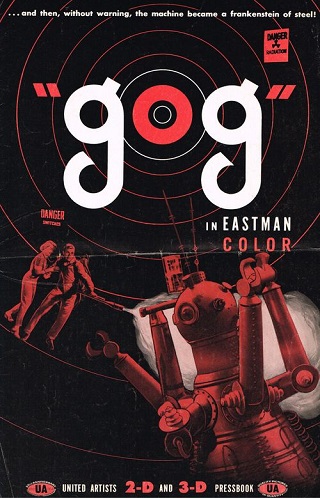 Playing at Pickford Film Center
83 minutes, USA, In English, Science Fiction
Rated NR: .
Official Site
Trailer
Rocket Sci-Fi! Admission only $3. Every film features an pre-movie introduction by series curator Steve Meyers.
From Steve himself: "Rocket Sci-Fi continues 2019 with our favorite theme: ROBOTS! We will be featuring classics like GOG (1954), Tobor the Great (1954), and the little-seen (ha!) Invisible Boy (1957) starring Robbie the Robot. Westworld (1973) and its sequel Futureworld (1976) are also in the mix. Come one, come all — droids and replicants are especially welcome."
Supiscious activity is occuring at a New Mexico installation where the first manned space station is being built in GOG. The base is under the "command" of NOVAC, or Nuclear Operated Variable Automatic Computer. It turns out that NOVAC has been overriden by enemy agants, who've reprogrammed the computer to undermine the project and even commit murder. To this end, NOVAC dispatches two robots, GOG and MAGOG, to do its dirty work. Can Democracy be saved?
Purchase Tickets
by clicking on a showtime below

Saturday, July 20th