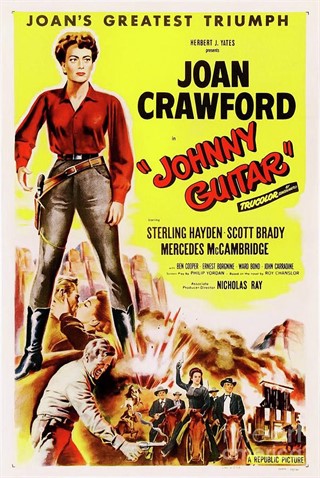 Playing at Pickford Film Center
110 minutes, USA, In English, Western
Rated NR: _

Directed by: Nicholas Ray
Perhaps no American filmmaker was more sympathetic with the plight of the outsider than Nicholas Ray, and perhaps his most compelling rebel-without-a-cause is Joan Crawford's Vienna in Johnny Guitar, who is forced to wage war with a puritanical posse intent on stealing everything from her. One of the strangest westerns ever made, the film pulses with delicious subtext and a strikingly vibrant "TruColor" pallete. Championed by the filmmakers and critics of the French New Wave, Johnny Guitar has transcended its B-movie roots to become a uniquely fascinating cult triumph.
-Mario Bonilla, projectionist
Third Eye Cinema is a staff and volunteer-curated film series of all of our favorite flicks — the cult classics, the ones you might have missed, the ones you need to revisit. This series is sponsored by our friends at Trove Cannabis!
Purchase Tickets by clicking on a showtime
Saturday, September 10th