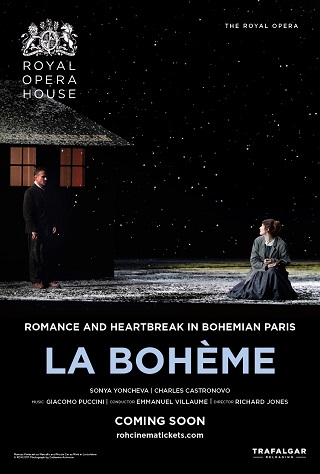 Playing at Pickford Film Center
155 minutes, USA, In Italian w/ English subtitles, Opera
Rated NR: .

Richard Jones perfectly captures the blend of tragedy and comedy in La bohème, and provides an acute analysis of Puccini's young would-be artists and their lovers, the soulful Mimì and spirited Musetta. Spectacular designs by Stewart Laing evoke both the poverty of the bohemians' attic home and the splendour of Paris's shopping arcades on Christmas Eve.
When Rodolfo, a penniless poet, meets Mimì, a seamstress, they fall instantly in love. But their happiness is threatened when Rodolfo learns that Mimì is gravely ill.
Tickets are $16 for Pickford members, $20 general admission, $10 for students/military.
Purchase Tickets by clicking on a showtime
Sunday, April 5th