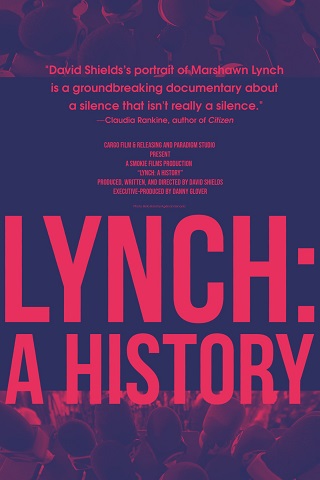 Playing at Pickford Film Center
85 minutes, USA, In English, Documentary
Rated NR: .

An evening with director David Shields on Friday, October 18.
Lynch: A History explores the silence that nonconformist NFL star Marshawn Lynch deploys as a form of resistance. Culling more than 700 video clips and placing them in dramatic, rapid, and radical juxtaposition, the film is a powerful political parable about the American media-sports complex and its deep complicity with racial oppression.
Born and raised in in Oakland by a single mother, Lynch became an All-American, an All-Pro running back, and a Super Bowl champion, but over the last five years he has emerged as a nationally significant figure precisely because he has refused to "play the game" of being a dutiful, cliché-bound interviewee.
View our complete Doctober lineup.
Purchase Tickets by clicking on a showtime
Friday, October 18th
Saturday, October 19th