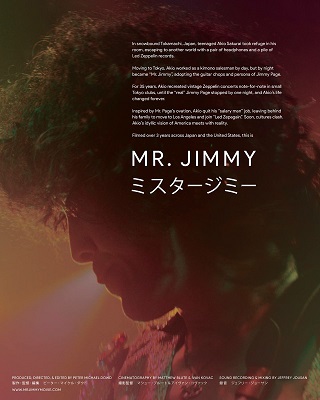 Playing at Pickford Film Center
113 minutes, USA, Japan, In English and Japanese w/ English subtitles, Documentary
Rated NR: .

In snowbound Tokamachi, Japan, teenaged Akio Sakurai took refuge in his room, escaping to another world with a pair of headphones and a pile of Led Zeppelin records. Moving to Tokyo, Akio worked as a "salary man" by day, but by night became "Mr. Jimmy," adopting the guitar chops and persona of Jimmy Page.
For 35 years, Akio recreated vintage Zeppelin concerts note-for-note in small Tokyo clubs, until the "real" Jimmy Page stopped by one night, and Akio's life changed forever.
View our complete Doctober lineup.
Purchase Tickets by clicking on a showtime
Saturday, October 12th
Thursday, October 17th