PFC's Limelight Cinema is a single-screen, art house theater with state of the art digital projection and cutting edge surround sound system. Located in the original home of the old Pickford Cinema (and even older Whatcom Film Association,) the Limelight Cinema offers an intimate setting perfect for our varied programming. We offer a seasonally curated wine list and a full catalog of beer and cider which you may take into the theater with you and enjoy during the film.
Limelight Cinema | 1416 Cornwall Ave.
Open 30 minutes before the first showtime of the day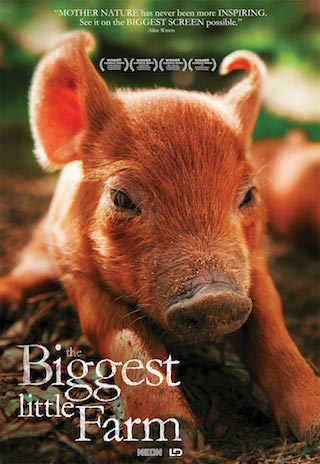 Playing at Limelight Cinema
91 minutes, USA, In English, Documentary
Rated PG: (for mild thematic elements and brief language)
Official Site
Trailer
A testament to the immense complexity of nature, The Biggest Little Farm follows two dreamers and a dog on an odyssey to bring harmony to both their lives and the land. When the barking of their beloved dog Todd leads to an eviction notice from their tiny LA apartment, John and Molly Chester make a choice that takes them out of the city and onto 200 acres in the foothills of Ventura County, naively endeavoring to build one of the most diverse farms of its kind in complete coexistence with nature. The land they've chosen, however, is utterly depleted of nutrients and suffering from a brutal drought. The film chronicles eight years of daunting work and outsize idealism as they attempt to create the utopia they seek, planting 10,000 orchard trees and over 200 different crops, and bringing in animals of every kind–including an unforgettable pig named Emma and her best friend, Greasy the rooster.