PFC's Limelight Cinema is a single-screen, art house theater with state of the art digital projection and cutting edge surround sound system. Located in the original home of the old Pickford Cinema (and even older Whatcom Film Association,) the Limelight Cinema offers an intimate setting perfect for our varied programming. We offer a seasonally curated wine list and a full catalog of beer and cider which you may take into the theater with you and enjoy during the film.
Limelight Cinema | 1416 Cornwall Ave.
Open 30 minutes before the first showtime of the day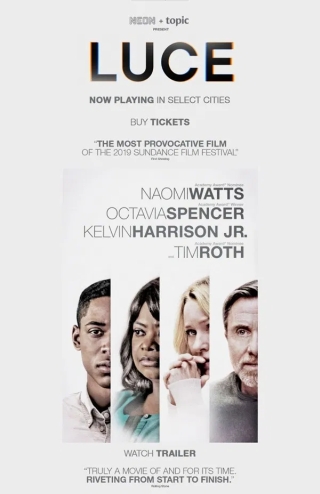 Playing at Limelight Cinema
109 minutes, USA, In English, Drama
Rated R: for language throughout, sexual content, nudity and some drug use.
CCAP
Open Caption Wednesday screenings: September 18 at 5:30 PM, and September 25 at 8:20 PM.
It's been ten years since Amy and Peter Edgar (Naomi Watts and Tim Roth) adopted their son from war-torn Eritrea, and they thought the worst was behind them. Luce Edgar (Kelvin Harrison Jr.) has become an all-star student beloved by his community in Arlington, Virginia. His African American teacher, Harriet Wilson (Octavia Spencer), believes he is a symbol of black excellence that sets a positive example for his peers. But when he is assigned to write an essay in the voice of a historical twentieth-century figure, Luce turns in a paper that makes an alarming statement about political violence. Worried about how this assignment reflects upon her star pupil, Harriet searches his locker and finds something that confirms her worst fears.