Playing at
210 minutes, https://www.vanityfair.com/hollywood/2016/10/father-amorth-the-vatican-exorcist, In English, Horror
Rated R: (for strong language and disturbing images)
To purchase tickets, click on your preferred showtime below
Friday, April 20th
Saturday, April 21st
Sunday, April 22nd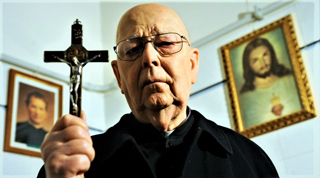 When he made his 1973 classic, The Exorcist, William Friedkin had never seen an exorcism. For decades he wondered how close he had come to reality. So, last May, he followed "the Dean of Exorcists" as he fought to expel Satan from an Italian woman.
This ticket is for a double feature:
THE DEVIL & FATHER AMORTH
The documentary explores an exorcism performed in 2016 by the Vatican's Father Gabriele Amorth. Friedkin was nominated for an Academy Award for directing the 1973 film The Exorcist. "In the early 1970s when I directed The Exorcist, I had not witnessed an exorcism," Friedkin said. "I had been curious to meet Father Amorth for many years and when he granted permission to meet and film him in Rome last May, it was the opportunity to complete the circle and see how close that film came."
followed by THE EXORCIST (1973)/
When a teenage girl is possessed by a mysterious entity, her mother (Ellen Burstyn) seeks the help of two priests to save her daughter.