Playing at
179 minutes, USA, In English, Horror
Rated R: _
To purchase tickets, click on your preferred showtime below
Thursday, October 11th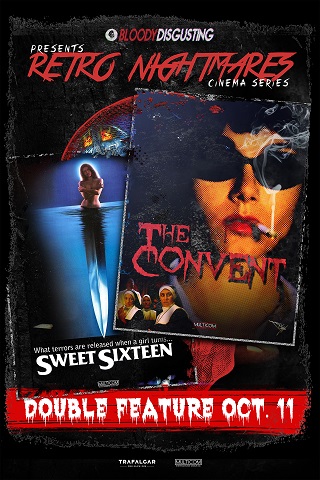 SWEET SIXTEEN (1983)
Big city girl Melissa Morgan (Aleisa Shirley) tries to make new friends in the small Texas town she just moved to. The only problem is, each of the boys that she spends time with ends up brutally murdered. Her sixteenth birthday is on the way, but Melissa turns out to be a suspect when it seems she's the last person who has seen her boyfriends alive.
THE CONVENT (2000)
In 1960, a young woman commits a grisly massacre at St. Francis Boarding School, brutally murdering the clergy and nuns inside. Forty years later, college student Clarissa and her fickle friends break into the abandoned convent to tag it with their Greek letters before the Kappas beat them to it. Before long, the group discovers that it's inhabited by demons that are intent on possessing them.
fans will get exclusive new in-theater content featuring a behind the scenes and in-depth look at the filming and restoration of The Convent.