Playing at
138 minutes, UK, In English, Theatre
Rated NR: .
To purchase tickets, click on your preferred showtime below
Sunday, May 12th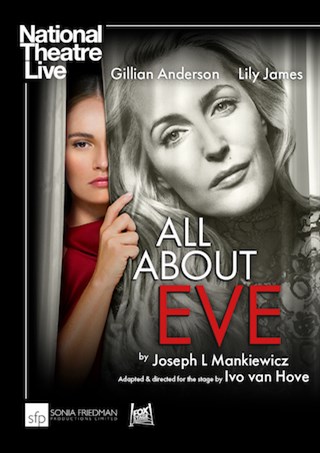 All About Eve tells the story of Margo Channing. Legend. True star of the theatre. The spotlight is hers, always has been. But now there's Eve. Her biggest fan. Young, beautiful Eve. The golden girl, the girl next door. But you know all about Eve…don't you…? Lifting the curtain on a world of jealousy and ambition, this new production asks why our fascination with celebrity, youth and identity never seems to get old.
This highly-anticipated stage production stars Gillian Anderson (X-Files, NT Live: A Streetcar Named Desire) and Lily James (Mamma Mia 2, Downton Abbey). Directed by one of the world's most innovative theatre directors Ivo Van Hove (Network) and music from double Mercury Prize-winner PJ Harvey.
Tickets are $16 for Pickford Members, $20 General Admission, $10 for Students.