Playing at
90 minutes, UK, In English, Russian, German, and Polish w/ English subtitles, Documentary
Rated NR: .
To purchase tickets, click on your preferred showtime below
Friday, May 24th (Showtimes TBD)
Saturday, May 25th (Showtimes TBD)
Sunday, May 26th (Showtimes TBD)
Monday, May 27th (Showtimes TBD)
Tuesday, May 28th (Showtimes TBD)
Wednesday, May 29th (Showtimes TBD)
Thursday, May 30th (Showtimes TBD)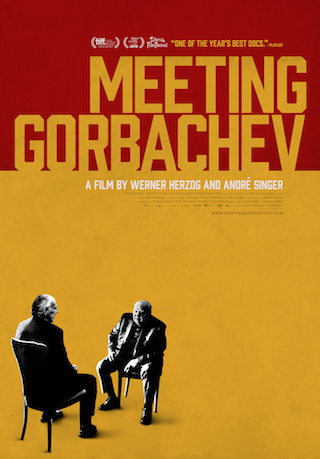 Across a six-month period, Werner Herzog conducted three interviews with Mikhail Gorbachev that are the foundation for this riveting film, co-directed by André Singer. In over 50 years of filmmaking, Herzog has scarcely engaged with a politician so directly. He clearly admires Gorbachev for being the kind of world leader that's in short supply today, known for his grace, wisdom, and commitment to peace.
Now 87, Gorbachev speaks like a man with nothing to lose. He is respected more outside Russia than inside, where he's blamed for the Soviet Union's breakup in 1991. He laments that "we didn't finish the job of democracy in Russia." And he worries that others took the wrong lessons from perestroika: "Americans think they won the Cold War and this went to their head. What victory?"