Playing at
119 minutes, USA, In English, Crime, Drama
Rated R: .
To purchase tickets, click on your preferred showtime below
Monday, March 25th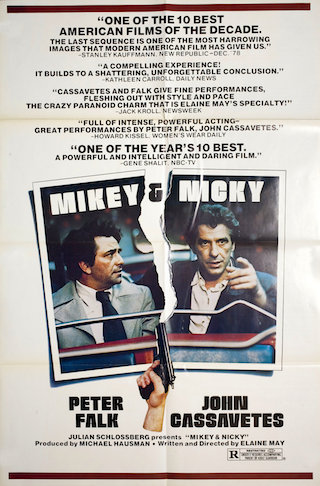 The Distaff Side: Women Directors of the 70s. Supported in part by the National Endowment for the Arts.
Nickey (John Cassavetes) is a small-time Jewish gangster in trouble with the mob. He calls on his lifelong friend Mikey (Peter Falk) for help. During the night the two spend together, the power of their friendship is undermined by their mutual nastiness and pressing financial concerns. Directed by Elaine May.
"[May's] genius for finding the squirmy humanity within toxic characters finds its purest and most heartbreaking expression in Mikey and Nicky, which filming began in 1973 but which wasn't released till 1976, following all manner of ill will and out-and-out warfare between May and Paramount, the studio that financed the film. At one point, May even hid reels of her own footage so that Paramount could not wrest it from her and release the movie in a bastardized form." Nathan Rabin for Criterion.