Playing at
110 minutes, UK, USA, In English, Sioux w/ English subtitles, Drama
Rated NR: .
To purchase tickets, click on your preferred showtime below
Sunday, April 7th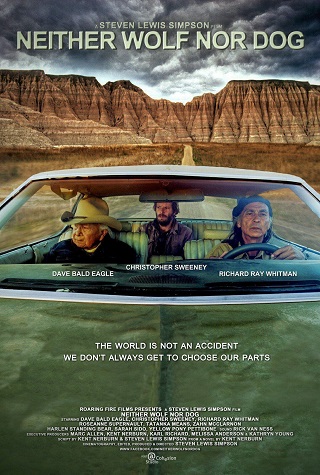 A white author is summoned by a Lakota Elder (Dave Bald Eagle) who asks him to write a book about his perspective. After a blundering false start, he is all but kidnapped and sucked into a road trip through the heart of the contemporary Native American landscape.
Shown in celebration of Dave Bald Eagle's birthday on April 8th.
"You will struggle to meet anyone more interesting than Dave Bald Eagle. Born in a tipi in 1919, Dave Bald Eagle lived with his grandfather, White Feather, and spoke only Lakota until he went to school when he was 12 years old. His life was too dramatic for a movie, but would need a mini-series. taking his first starring role in a movie at 95 and turning in as incredible a performance as he does in Neither Wolf Nor Dog was just a classic example of how fearless he was."