Playing at
143 minutes, , In ,
Rated NR: .
To purchase tickets, click on your preferred showtime below
Friday, February 22nd (Showtimes TBD)
Saturday, February 23rd (Showtimes TBD)
Sunday, February 24th (Showtimes TBD)
Monday, February 25th (Showtimes TBD)
Tuesday, February 26th (Showtimes TBD)
Wednesday, February 27th (Showtimes TBD)
Thursday, February 28th (Showtimes TBD)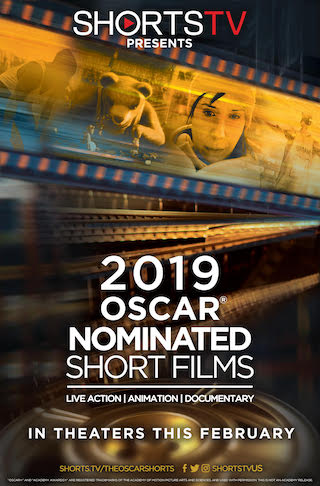 Black Sheep – Ed Perkins and Jonathan Chinn, UK, 27 minutes
End Game – Rob Epstein and Jeffrey Friedman, USA, 40 minutes
Lifeboat – Skye Fitzgerald and Bryn Mooser, USA, 40 minutes
A Night at the Garden – Marshall Curry, USA, 7 minutes
PERIOD. END OF SENTENCE. – Rayka Zahtabchi and Melissa Berton, India, 26 minutes
For the 14th consecutive year, Shorts HD and Magnolia Pictures present the Oscar-Nominated Short Films, opening on Feb. 8th. With all three categories offered – Animated, Live Action and Documentary – this is your annual chance to predict the winners (and have the edge in your Oscar pool)! A perennial hit with audiences around the country and the world, don't miss this year's selection of shorts.