Playing at
109 minutes, , In ,
Rated NR: .
To purchase tickets, click on your preferred showtime below
Friday, February 22nd (Showtimes TBD)
Saturday, February 23rd (Showtimes TBD)
Sunday, February 24th (Showtimes TBD)
Monday, February 25th (Showtimes TBD)
Tuesday, February 26th (Showtimes TBD)
Wednesday, February 27th (Showtimes TBD)
Thursday, February 28th (Showtimes TBD)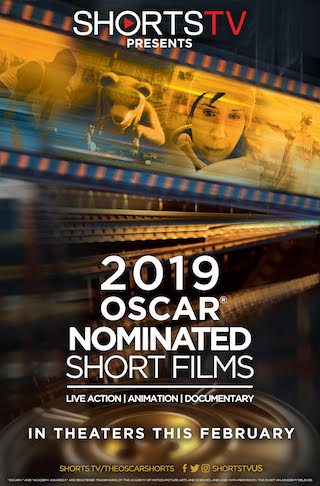 Please note that some of these titles contain challenging content, sensitive people should look into the descriptions of these titles.
Madre – Rodrigo Sorogoyen and Maria del Puy Alvarado, Spain, 19 minutes
Fauve – Jeremy Comte and Maria Gracia Turgeon, Canada, 17 minutes
Marguerite – Marianne Farley and Marie-Helene Panisset, Canada, 19 minutes
Detainment – Vincent Lambe and Darren Mahon, Ireland, 30 minutes
Skin – Guy Nattiv and Jaime Ray Newman, USA, 20 minutes
For the 14th consecutive year, Shorts HD and Magnolia Pictures present the Oscar-Nominated Short Films, opening on Feb. 8th. With all three categories offered – Animated, Live Action and Documentary – this is your annual chance to predict the winners (and have the edge in your Oscar pool)! A perennial hit with audiences around the country and the world, don't miss this year's selection of shorts.