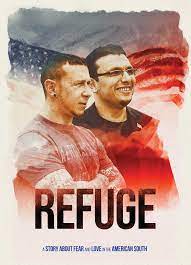 Playing at Pickford Film Center
76 minutes, USA, In English, DOC-Social/Racial Justice
Rated NR: _

Directed by Din Blankenship, Erin Levin Bernhardt
Virtual Q&A with directors Oct. 30
Despite former Klan leader Chris Buckley's renunciation of the KKK , he retains a deep prejudice against Muslims following the 9/11 attacks. Chris's long-held beliefs are challenged when Dr. Heval Kelli, a cardiologist and Kurdish refugee, reaches out to him and an unlikely relationship develops. Will Chris overcome his hate? Will Dr. Kelli find what he is seeking? What's possible when we are willing to face hate with humanity?
Plays With: "Stranger at the Gate" dir. Josh Seftel, 25 min
After a quarter century of service, a US marine, still raging against Muslims, plans to bomb the local mosque. When he comes face to face with the community of Afghan refugees, his plan takes an unexpected turn.
Presented by Bellingham Human Rights Film Festival