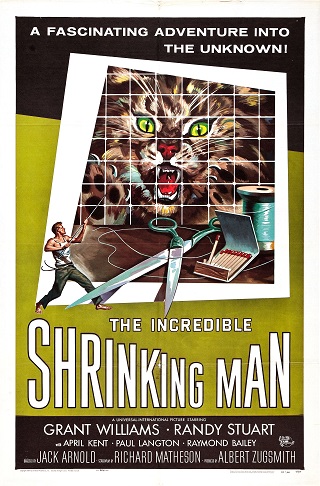 Playing at Pickford Film Center
81 minutes, USA, In English, Science Fiction, Horror
Rated NR: .

Rocket Sci-Fi! Admission only $3. Every film features an introduction by series curator Steve Meyers.
While on a boating trip, Scott Carey (Grant Williams) is exposed to a radioactive cloud. Nothing seems amiss at first, but several months later Scott realizes that he's shrunk in height by several inches. He sees a doctor, who admits that he's baffled. As Scott continues to shrink, decreasing to three feet tall, he becomes bitter, and lashes out at his wife, Louise (Randy Stuart). He begins to fear a cure will never be found — since even as he becomes a national sensation, he's still shrinking.
Purchase Tickets by clicking on a showtime
Saturday, May 16th