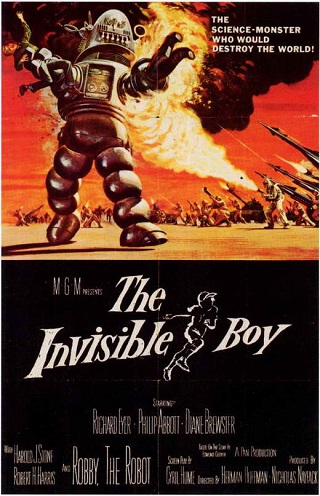 Playing at Pickford Film Center
90 minutes, USA, In English, Science Fiction
Rated NR: .

Rocket Sci-Fi! Admission only $3. Every film features an pre-movie introduction by series curator Steve Meyers.
From Steve himself: "Rocket Sci-Fi continues 2019 with our favorite theme: ROBOTS! We will be featuring classics like GOG (1954), Tobor the Great (1954), and the little-seen (ha!) Invisible Boy (1957) starring Robbie the Robot. Westworld (1973) and its sequel Futureworld (1976) are also in the mix. Come one, come all — droids and replicants are especially welcome."
Timmie, a mischievous 10-year-old boy, is plopped in front of a supercomputer by his scientist father, Dr. Tom. The computer, however, secretly gives Timmie super-intelligence and he's soon able to reanimate a robot named Robbie (of Forbidden Planet fame). Timmie and Robbie become best friends, embarking on a series of lighthearted pranks. But when Robbie starts taking orders from the evil supercomputer, Timmie must choose between his best friend and the safety of the world.
Purchase Tickets by clicking on a showtime
Saturday, September 21st