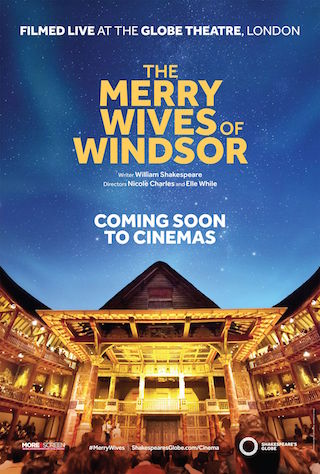 Playing at Pickford Film Center
180 minutes, UK, In French w/ English Subtitles, Theatre
Rated NR: .
Official Site
Trailer
Double-meanings and disguises abound in this new production of William Shakespeare's very English comedy The Merry Wives of Windsor as Sir John Falstaff sets about improving his financial situation by wooing Mistress Page and Mistress Ford. But the 'Merry Wives' quickly cotton on to his tricks and decide to have a bit of fun of their own at Falstaff's expense…
Directed by Nicole Charles and Elle While, and staged at the beautiful and iconic Globe Theatre in London, a reconstruction of an open-air Elizabethan playhouse on the bank of the River Thames, this film release continues the GlobeOnScreen annual cinema season.
Tickets are $16 for Pickford Members, $20 General Admission, $10 for Students.
Purchase Tickets
by clicking on a showtime below

Sunday, September 1st