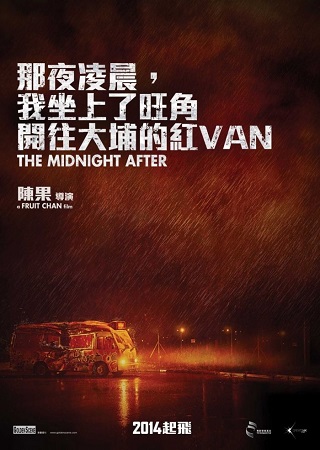 Playing at Pickford Film Center
124 minutes, Hong Kong, In Cantonese and Japnese w/ English subtitles, English, Comedy, Horror, Sci-Fi
Rated NR: .

Fruit Chan is a director known for pushing boundaries in a series of acclaimed films. Based on the web novel Lost on a Red Minibus to Taipo written by someone known as Mr. Pizza, The Midnight After is a sci-fi film, a rarity in Hong Kong cinema. Layer by layer, the film's puzzles multiply and eventually reveal an unlikely political allegory that maintains its relevance some five years after being released. The Midnight After features compelling performances by both Hong Kong veterans and newcomers.
The Midnight After will be introduced by series curator Jeff Purdue.
"A deliriously high-concept and gleefully low-budget horror-comedy that mourns the dissolution of [Hong Kong's] core values since its handover to China in 1997. Maverick helmer Fruit Chan (Made in Hong Kong, Durian Durian) bends genre like it's putty in his hands, distilling the macabre from the everyday and making the apocalyptic seem absurdly matter-of-fact." —Variety
Purchase Tickets by clicking on a showtime
Tuesday, March 10th