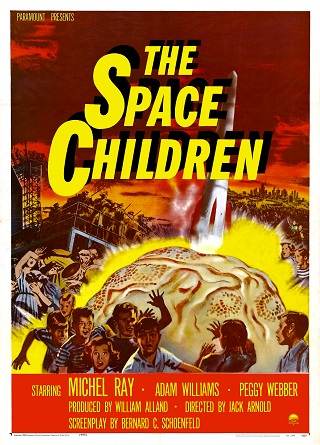 Playing at Pickford Film Center
69 minutes, USA, In English, Science Fiction
Rated NR: .

Rocket Sci-Fi! Admission only $3. Every film features an introduction by series curator Steve Meyers.
Dave Brewster (Adam Williams) arrives to take his new job as an electronics technician at a top-secret Air Force base in California. With him are his wife Anne (Peggy Webber) and their two children, Bud (Mikel Ray) and Ken (Johnny Crawford), who are all apprehensive about this sudden transplant, as well as the spartan existence that all of the families live under. No sooner do they arrive, however, then Bud and Ken see a strange light in the sky pointing to the beach, and soon after that seem to be receiving increasingly powerful — and detailed — telepathic communications from an unseen source. The boys are drawn, along with the children from the other families, to a lonely cave near the beach, where an alien presence, in the form of a huge (and ever-growing) brain, has hidden itself.
Purchase Tickets by clicking on a showtime
Saturday, June 20th