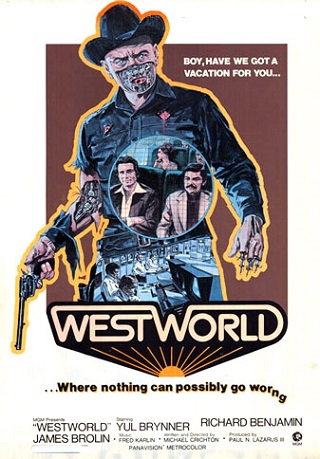 Playing at Pickford Film Center
88 minutes, USA, In English, Science Fiction
Rated PG: .

Rocket Sci-Fi! Admission only $3. Every film features an pre-movie introduction by series curator Steve Meyers.
From Steve himself: "Rocket Sci-Fi continues 2019 with our favorite theme: ROBOTS! We will be featuring classics like GOG (1954), Tobor the Great (1954), and the little-seen (ha!) Invisible Boy (1957) starring Robbie the Robot. Westworld (1973) and its sequel Futureworld (1976) are also in the mix. Come one, come all — droids and replicants are especially welcome."
Westworld is a futuristic theme park where paying guests can pretend to be gunslingers in an artificial Wild West populated by androids. After paying a sizable entrance fee, Blane (James Brolin) and Martin (Richard Benjamin) are determined to unwind by hitting the saloons and shooting off their guns. But when the system goes haywire and Blane is killed in a duel with a robotic gunslinger (Yul Brynner), Martin's escapist fantasy suddenly takes on a grim reality.
Purchase Tickets by clicking on a showtime
Saturday, November 16th