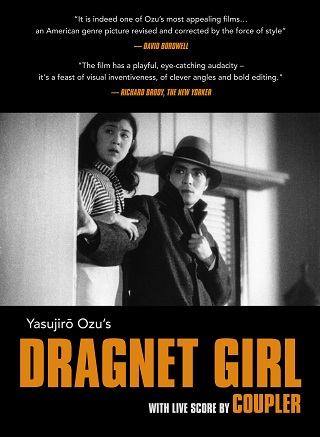 Playing at Pickford Film Center
100 minutes, Japan, In Japanese w/ English Subtitles, Crime, Romance, Drama
Rated NR: .

A silent film, thought lost after World War II.
A hardboiled Japanese gangster film.
A rare glimpse of a world now completely vanished.
Pickford Film Center presents Dragnet Girl, a steamy, smoky, silent romance with a new original score performed live in the theater by the Nashville trio Coupler that has wowed audiences in New York, Philly, Boston, Dallas, and D.C. and is now on a west coast tour.
In celebration of the tenth season of our Cinema East series (previously Masters of Asian Cinema).
"A formally accomplished and psychologically complex gangster tale with effortlessly cool performances and visual inventiveness, Dragnet Girl is a bravura work from Yasujiro Ozu." — Janus Films.
Donate here to help bring Coupler to Bellingham and receive special screening benefits.
Purchase Tickets by clicking on a showtime
Saturday, November 23rd